Applications for the 2019 program


is currently CLOSED
Applications reopen August 1st and will close November 1st
2019 Institute dates: July 10 – 31
Applications for the 2019 Institute for Young Dramatic Voices now available!
The Institute is a training program for singers who are seriously interested in pursuing an international career in opera. IYDV is open to all levels of development with preference given to large or unusual voices. We look for singers with musical and voice potential, and communicative instincts. We are interested in beginners with no experience as well as those who have had considerable training.
Applying to the Institute involves 4 steps:
Step 1 – complete the application form, DEADLINE NOVEMBER 1, 2019
Step 2 – All applicants will be notified by November 15, whether or not you are considered for live audition.
Step 3 – live auditions will be held in select cities across the US. Locations for live auditions will be determined by who is selected and where they live. We will notify you of the locations available if you are selected for a live audition.
Step 4 – singers selected to participate in the Institute will be notified, usually by mid-March
To Apply: New Students (all levels)
All new students who wish to apply to the Institute must fill out an application form and send supporting materials.
Please follow the link below to complete and submit your application to the 2020 IYDV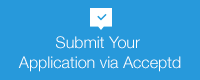 APPLICATIONS MUST BE RECEIVED BY NOVEMBER 1, 2019